The Department of Vocational and Technical Education (VOTEC) has organised a four-day training workshop for instructors of National Vocational Training Institutes (NVTI) in Ghana to strengthen the capacity of teachers in the use of technology-supported teaching and learning strategies. 
 
The workshop, funded by the International Centre for Technical and Vocational Education and Training of the United Nations Educational, Scientific and Cultural Organization (UNESCO-UNEVOC), was a response to the new challenges in the teaching field raised by the Covid-19 pandemic which had caused an increase in the demand for the use of digital technology for teaching. 
Read also University of Cape Coast scientist turns to gene editing to improve sweet potato crop
The objective of the training programme was to equip Technical and Vocational Education and Training (TVET) instructors with the skills needed to explore, develop and effectively use technology-supported teaching and learning strategies.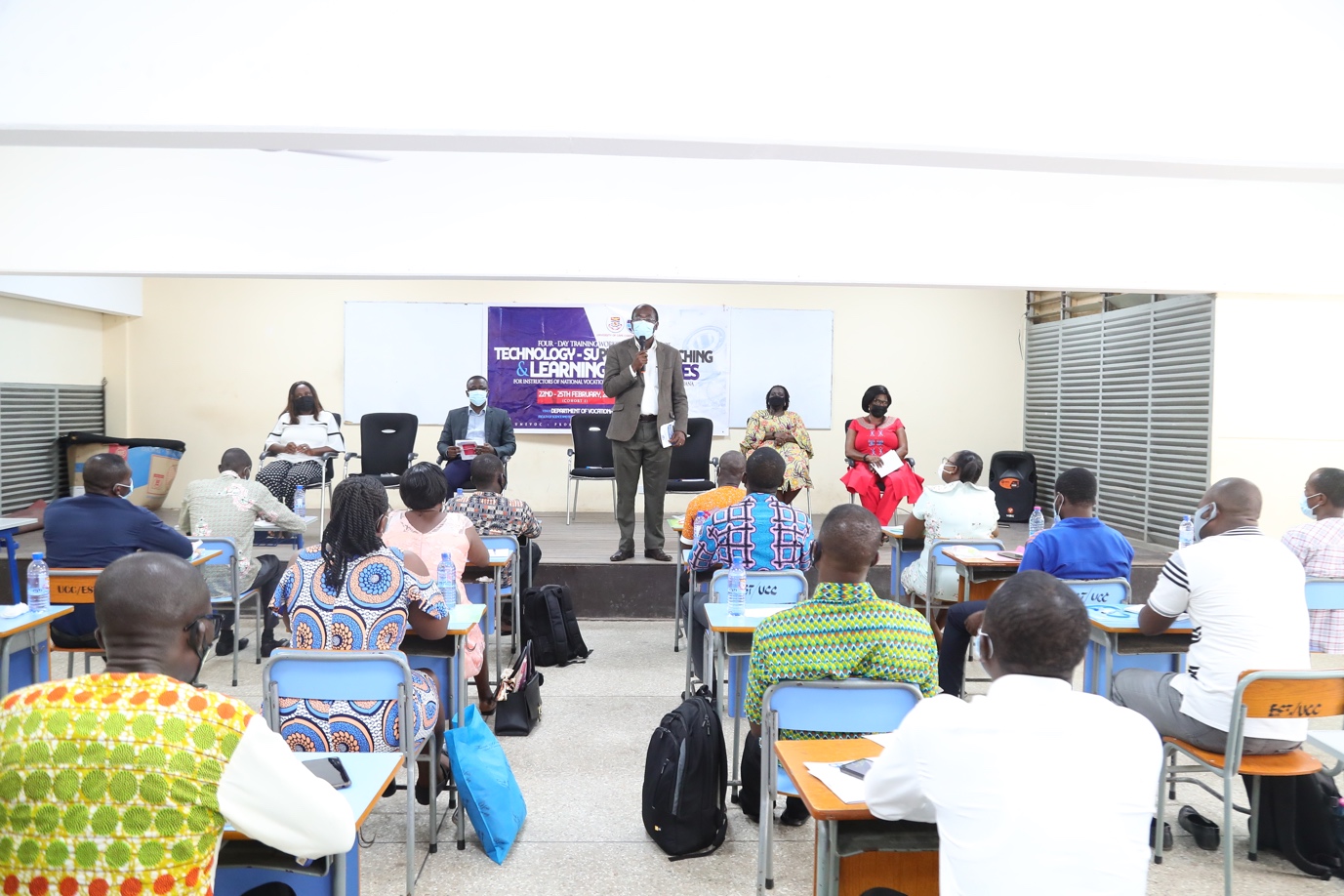 Prof. Ernest Davis addressing participants
Read also Goldridge and Small Scale Miners sign agreement to boost value addition for gold locally
In his opening address, the Provost of the College of Education Studies, Prof. Ernest Davis, stated that "the Covid-19 pandemic has disrupted, interrupted and affected education across the world.
"Covid-19 has given us the opportunity to think about various ways of delivering education aside from the traditional approach. Today ICT has become an important tool that could be used to produce quality graduates." 
Read also JICA, MoFA, GIDA support rice cultivation through Kpong Irrigation Scheme
The training programme was held in two phases. The first phase was held for 19 NVTI Centers in Northern Ghana whilst the second phase is being held for 19 NVTI Centres from Southern Ghana. 
During the workshop, participants were exposed to online educational resources, digital tools and learning platforms.  
Read also Agric commodity market: Overview of global watermelon and melon market
Present at the opening ceremony of the workshop were Head, Department of VOTEC, Dr. Augustina Araba Amissah; Dean, Faculty of Science and Technology Education, Prof. Douglas Agyei, and Dean, School of Graduate Studies, Prof. Sarah Darkwa.