For years, the people of Cape Coast – hub of Ghana Tourism – and Central Region as a whole have been crying and calling for a Passport Application Centre since they have to travel long distances to acquire this important document [passport].
In response to that, an ultra-modern Passport office has been commissioned in Cape Coast to serve the need of prospective passport applicants in the Central Region.
The office will now ease the stress of acquiring the identity and travelling document as applicants will not be required to travel to either Accra or Takoradi for that purpose.
Speaking at the commissioning, Deputy Minister for Foreign Affairs and Regional Integration – Charles Owiredu – stated that the commissioning of the Cape Coast Passport Application Centre is in line with the government's aim of helping Ghanaians to apply for passports with ease.
"A week ago the president commissioned the new passport head office at Ridge. The refurbished building will serve as a permanent office for central operations and production where Regional Application Centres are served. By next week, 13 Passport Application Centres would have been commissioned across the country.
"Also, preparations are underway for the establishment of additional Passport Application Centres in Bolgatanga and in the six created Regions by 2021. This is in line with the president's vision of bringing passport services to the doorstep of Ghanaians" he said.
He also noted that the commissioning of Passport Application Centres throughout the country is a vivid demonstration of government's commitment to good governance through decentralization and de-concentration of essential public services.
Related article: Discourage activities of 'Goro Boys' at our new passport office – Osabarima to staff
According to Mr Owiredu, the establishment of the Passport Application Centre in the Central Region will also create employment opportunities for the youth in the Region.
"It is also envisaged that opening of this Passport Application Centre will unleash more opportunities in the supply chain where the youth could take advantage and set up their own small businesses".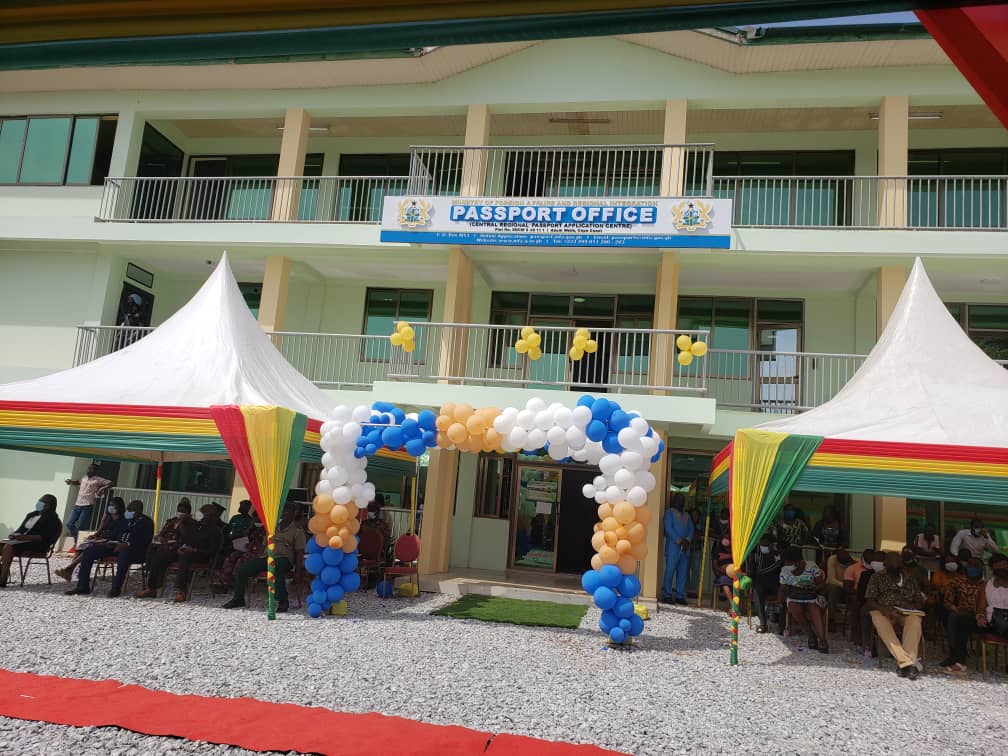 The Central Regional Minister, Mr Kwamena Duncan, on his part called for the need to establish regional offices for all government agencies in the country saying "the move will end long queues at the various public offices and enhance access."
Read also WAKANDA CITY OF RETURN: Cape Coast signs MoU with African Diaspora Development Institute, others for creation of Ultra-Modern Smart City
He noted that the regular practice where some regional offices of government agencies are tasked to oversee the activities of others breeds inefficiency which according to him is unacceptable.
"At least if we are unable to get offices in all districts, there must at least be regional offices so the people of the region can easily access the services of that particular government agency" he noted.
Mr Duncan added, "I call on all of us, the people of this region that, we must join in strength, join in heart and mind to ask that all such public institutions ensure that even if they don't have district offices, they must have regional offices."