The Chief Executive Officer (CEO) for Water 4 Mercy, Ms. Nermine Khouzam Rubin, has expressed interest to collaborate with the University to commence an irrigation project.
Ms. Rubin made this known when she called on the Vice-Chancellor, Prof. Johnson Nyarko Boampong, at his office.
Ms. Rubin explained that the project dubbed "Water 4 Mercy School of Agriculture" (WAMSA) was aimed at training and developing a new generation of agronomists and growers to boost agricultural transformation.
She indicated that her organisation's focus was to transform the world with Israel's innovative and advanced water and agricultural solutions by empowering villages and provide opportunities for them to earn income.
"The Israeli developed drip irrigation system allows families to grow more food with less water and provides a means for financial independence. With this technology, we are not depending on seasons so we can sell onions when nobody is selling onions," she explained.
Making reference to WAMSA, she noted that students who had been enrolled on the project were learning and practising as well as getting securing opportunities to set up businesses in the form of joint ventures.
She said that setting up of WAMSA in a University was key because it would lead to increase in research in the area of agriculture.
Read also UCC Scientists introduce newly developed soybeans to farmers in Central Region
"What WAMSA will do is to set up opportunities for students to have a six-month training vocational programme to build their skills so that when they graduate, they can create jobs using agriculture technology," she explained.
In response, the Vice-Chancellor said the University was opened for partnership with organisations to provide opportunities for students to develop their potential in order to create jobs. He said the WAMSA project was in line with the University's quest to train students to become entrepreneurs.
"We are happy to hear this good news and I assure you that we are ever ready to collaborate with Water 4 Mercy to promote research and also create avenues for students to enter into agribusiness," he added.
Read also UCC and Agri-Impact Undertake Greenhouse Project on Campus
The Head of Department for Molecular Biology and Biotechnology, Prof. Aaron Tettey Asare, noted that the University had contributed significantly to the agriculture sector.
"What we need currently is the support to start mechanisation to expand crop production," Prof. Aaron Tettey Asare stated.
Prof. Asare also mentioned the issue of post-harvest losses which often led to most of the farm produce going waste and indicated the University's readiness to collaborate with her organisation to improve the situation in the country.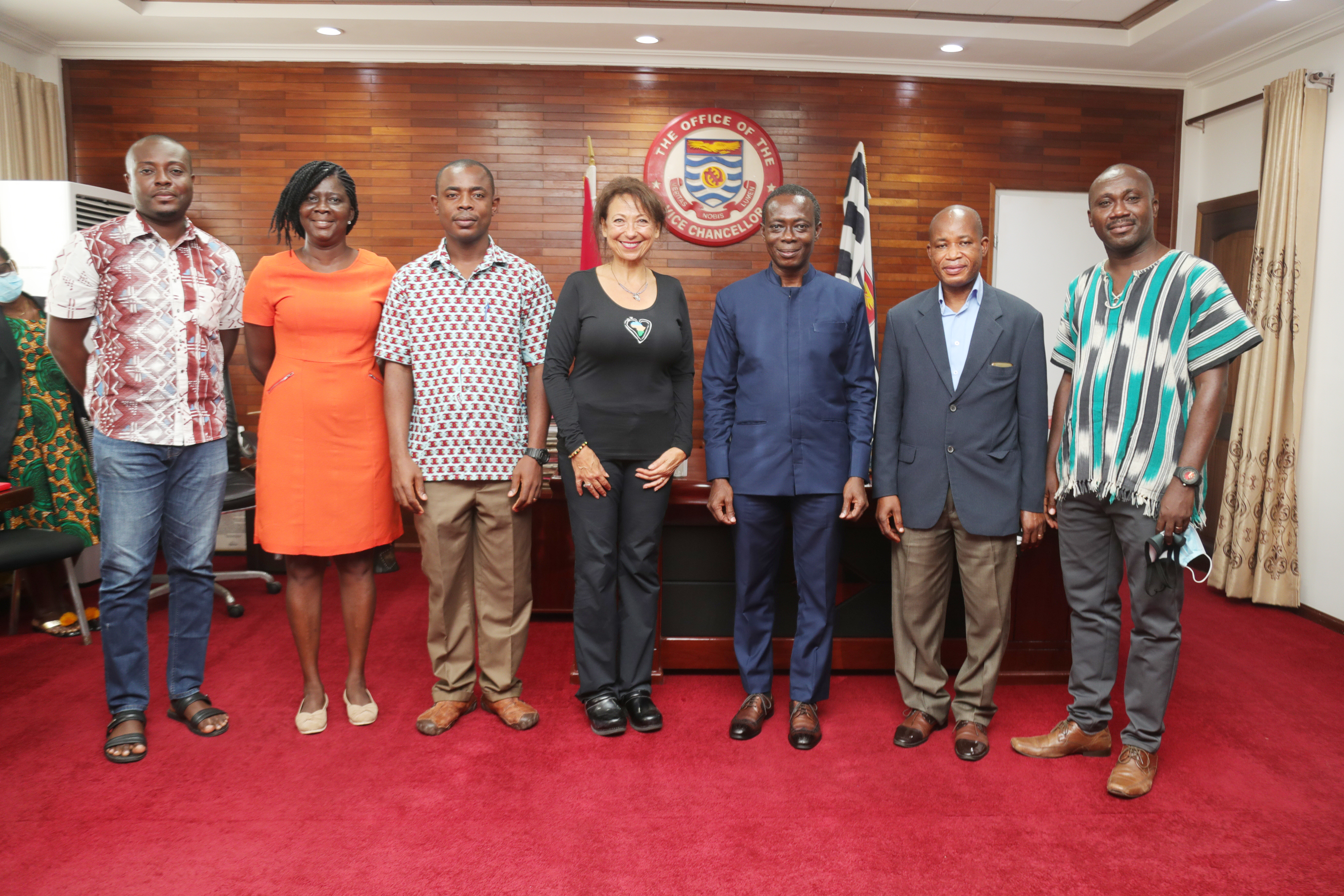 The Director of the Centre for Coastal Management, Prof. Denis Worlanyo Aheto, said there was huge potential in the area of aquaculture and, therefore, the Centre was prepared to engage Water 4 Mercy to explore possible areas of collaboration.
Read also UCC signs MoU with Agrotech Ghana to operationalise Komenda Sugar factory
He said the Department of Fisheries and Aquatic Sciences, recently organised a five-day intensive training course targeting prospective and existing fish farmers including students in fish production.
Present at the meeting were the Director of the Centre for Entrepreneurship and Small Enterprises Development, Prof. Rosemond Boohene, and a Senior Lecturer at the Department of Agricultural Engineering, Dr. Ernest Teye.