School of Veterinary Medicine of KNUST holds workshop for poultry farmers in Nsuta
The School of Veterinary Medicine (SVM) of the Kwame Nkrumah University of Science and Technology (KNUST), Kumasi, in collaboration with the Department of Agriculture, Ashanti Region have organised a workshop for poultry farmers in Nsuta, a community in the Sekyere Central District, Ashanti Region.
Professor Benjamin Emikpe, Dean of SVM, in his remarks, noted that the workshop was to equip young farmers with necessary skills needed in poultry farm practices to boost production in the community.
Read also Techiman North District: Tuobodom gets poultry feed processing factory
He was of the view that the University has a responsibility to train not only its students but residents of surrounding communities in skills that benefit the country.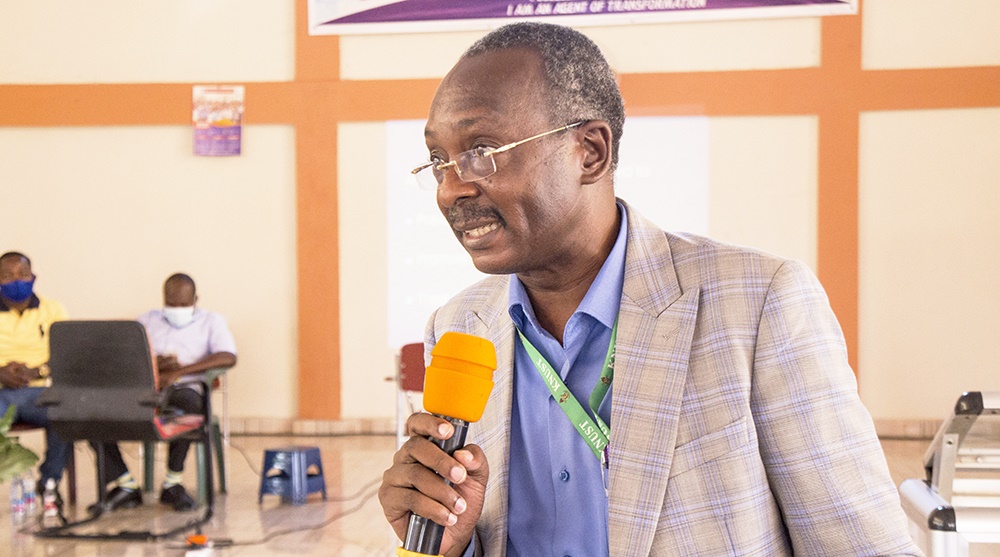 Read also Farmer-based-organization calls for strong collaboration among state institutions to fight fake agro-chemicals
The District Chief Executive, Honourable Kwadwo Banahene Bediako, thanked SVM for choosing the district to benefit from their initiative.
He was hopeful that the relationship between the district and KNUST would be strengthened. He urged participants to use the workshop to upgrade their knowledge and improve their capacity in poultry farming.
Participants were taken through topics such as Poultry Vaccination, Anti Biotic use and Biosecurity in livestock production.
Read also "I have lost 700 hectares of farmlands to flood" – 1st Runner-Up of the 2016 National Best Farmer
Facilitators for the workshop were Professor Benjamin Emikpe, Professor Raphael Folitse and Daniel Adomako, District Veterinary Officer.
In a related development, Hon. Kwadwo Banahene Bediako, presented 12 acres land to the SVM for the establishment of demonstrative farms. He explained that whiles 2 acres of land is located at Kwamang, the remaining 10 acres is at Biposo, both towns in the district.
Professor Emikpe expressed his gratitude to the District Chief Executive. He noted that the demonstrative farms would be used to provide a 3-week intensive training in general farm practices to the youth in the community. He was hopeful that this initiative would reduce the challenge of unemployment in the district.
Professor Emikpe promised that SVM would create a virtual veterinary service to aid farmers in the community. He further pledged SVM's continuous support to the District.
Read also Early drought disrupts minor planting season Kwahu Afram Plains