We are ready to collaborate with UCC – Israeli Ambassador to Ghana
he Israeli Ambassador to Ghana, Her Excellency, Shani Cooper, has expressed her country's readiness to partner University of Cape Coast (UCC) to boost Agribusiness, Technology and Innovation.
Her Excellency, Shani Cooper, made this known when she paid a courtesy call to the Vice-Chancellor, Prof. Johnson Nyarko Boampong.
The Israeli Ambassador noted that Ghana and Israel had a long standing relationship that the Vice-Chancellor and his team could capitalise on to develop the University.
She indicated that education was a priority to her country and hence, the Embassy would connect University of Cape Coast to universities and organisations in Israel.
Ms. Cooper who also has oversight responsibility over Liberia and Sierra Leone said the Embassy would partner the University to become one of the best destinations of higher education in Africa and beyond in the areas of Agribusiness, Technology and Innovations.
She indicated that through effective collaborations, industries in Israel offered start-up packages to graduates to begin their own businesses.
"Our universities have direct collaboration with the private sector so we always help our students to start businesses as soon as they graduate," she explained.
Read also Prof. Denis W. Aheto Re-Appointed by the World Bank to serve on the Interim Technical Advisory Committee for WACA Programme
The Israeli Ambassador announced that plans were far advanced to include UCC in an exchange programme where levels 200 and 300 as well as postgraduate students pursuing Agriculture would be attached to farms in Israel.
Such students according to her would be working in various areas in agriculture such as fishing, animal rearing, and crop production using green house technology for 11 months. This would enable them to acquire knowledge and skills in agribusiness.
She explained that the project was being executed between Israel and the Government of Ghana through the Ministry of Food and Agriculture. She added that the first batch of 55 students from Ghana went to Israel in 2019.
"I must add that the Ghanaian students distinguished themselves when they went to Israel and they are highly sought for by our farmers," she added.
Ms. Cooper expressed interest to learn more about UCCs success story in the area of Distance Education which she noted would be beneficial to Universities in Israel.
The Israeli Ambassador to Ghana presenting a biogas system to the Vice-Chancellor
On the part of the Vice-Chancellor, Prof Johnson Boampong, said his vision was to transform UCC as an Entrepreneurial University. He noted that this vision was inspired by his visit to Israel where he realised that the country was making good use of the green house technology to boost agriculture for local consumption and export.
Prof. Boampong indicated that UCC was interested in expanding its partnership with the Embassy in the areas of Science, Technology, Engineering, and Mathematics (STEM), Agribusiness, Technology and Innovation, Primary Health Care, and History.
"My leadership has an enormous task ahead of us and we look forward to partner you to implement this vision and we know the Israeli Embassy in Ghana can connect us to universities and organisations in Israel," he stressed.
Read also Disappointed citrus farmers in A. A. K. district trained to produce honey from bees
In the area of Agribusiness, Prof. Boampong informed the Ambassador that the University had large hectares of land for commercial farming and would need the expertise of Israel to develop grid irrigation and green house technology.
"We intend to vigorously pursue agri-business through this commercial farm venture," he explained.
The Vice-Chancellor commended the Ambassador for expressing interest to support his administration to achieve his vision for the University. He assured the Ambassador of a fruitful working relationship with UCC.
The Israeli Ambassador donated a biogas system that could produce gas for domestic and industrial use as well as liquid fertilizer for agriculture purposes.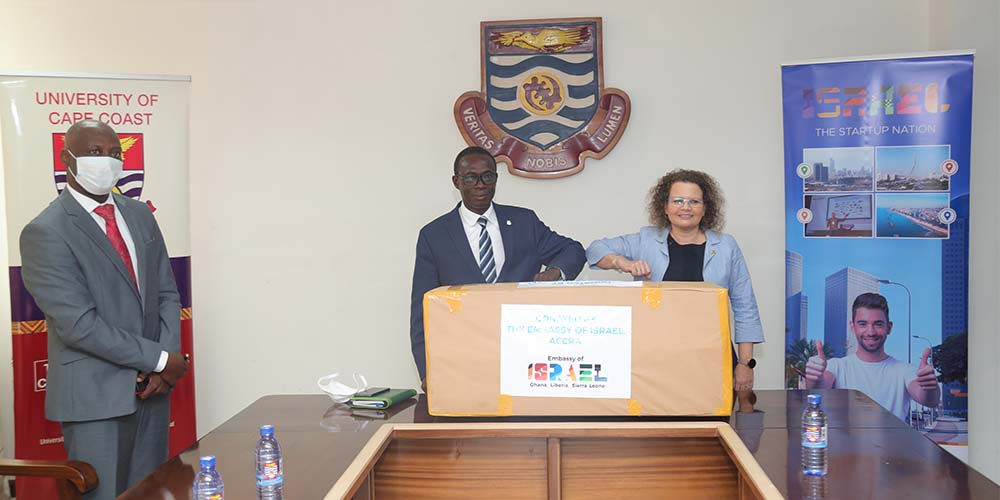 The Vice-Chancellor later took Ms. Cooper to the University Teaching and Research Farm to inspect the Green House project.
Present at the meeting were the Pro Vice-Chancellor, Prof. Dora Edu-Buandoh; Registrar, Mr. Jeff Teye Onyame; Provost College of Distance Education, Prof. Isaac K. A. Galyuon and Dean, School of Agriculture, Prof. Elvis Asare-Bediako.
Also read Promoting Sustainable Beekeeping to Alleviate Deprivation and Poverty